Our Winter 2023 Litter of Goldendoodle Puppies are Ready for Pickup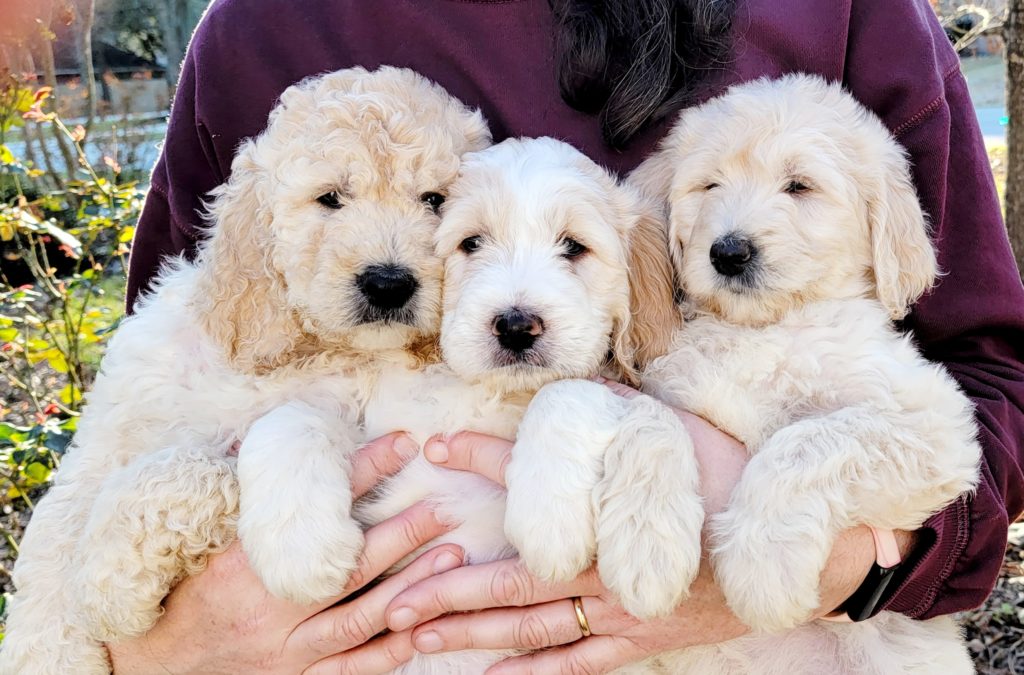 Check out these darling goldendoodle pups for sale in Houston! These goldendoodles are ready for pickup starting this week. We have 3 boys and 2 girls at the time of this posting. These cuties are our winter litter of standard goldendoodle puppies who are expected to be 65-70 pounds full grown. We have a mix of light-parti colored, cream and apricot and one black goldendoodle puppy.
Parents: Mom is an F1 goldendoodle and dad is an F1b goldendoodle, so we have some pups that have a curlier coat and a few with fluffier/shaggier coats. Scroll down below for more specifics on the puppies.
Meet the Goldendoodle Pups for Sale in Houston!
Here are the goldendoodle puppies available now! Contact us today either by phone at 832-971-4649 or email at laurieclaire@gmail.com to get more information about the individual puppies and to reserve one of these cuties today!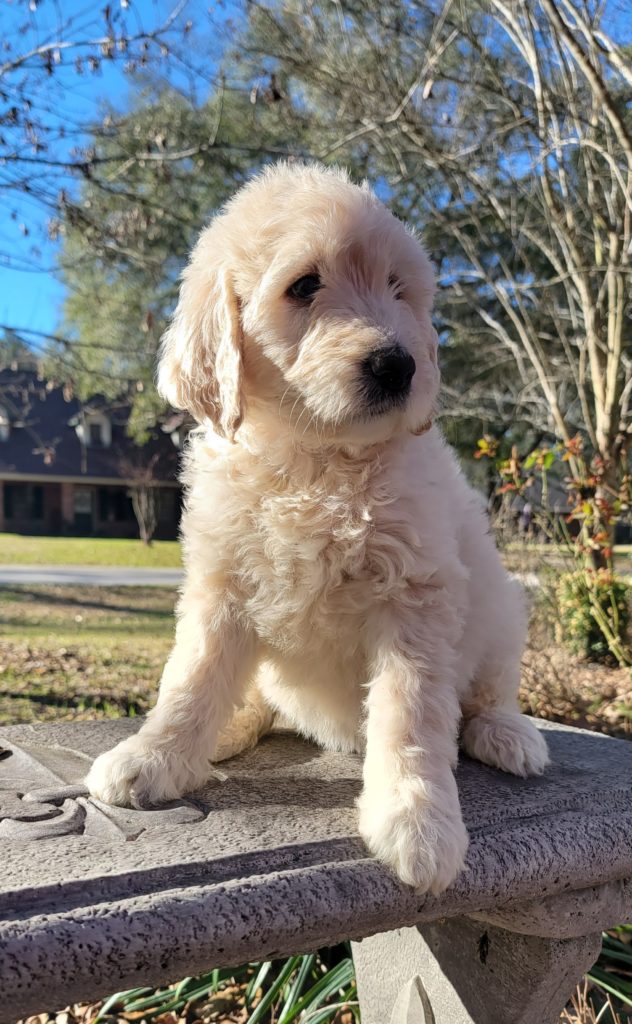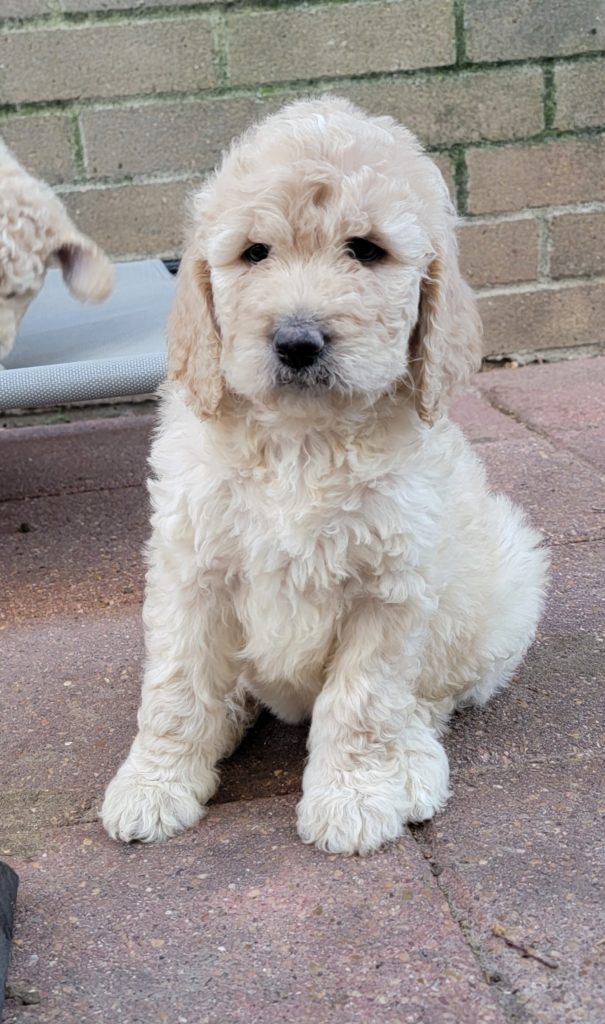 Your Puppy's Health Care So Far.
Our doodle pups come with their first shots and their health record. They have been to the vet for their first wellness check, but we do ask that you take your new pup to the vet within 3 days (72 hours) to active our 1 year health guarantee.
We've Been Busy Getting Your Puppy Ready to Go!
Feeding:
All pups are doing great with their eating. They are weaned and have transitioned to eating dry kibble. We use Victor Hi-Pro, Active Dog and Puppy (Teal Bag). You can either continue using the same dog food, or you can transition them slowly to another food that you prefer or that your vet recommends. We will give you a small baggie of food if you need it.
Night Time Crate Training:
These goldendoodle puppy ready for pickup now are doing well with their night time crate training. They go to sleep around 10:30 p.m. in their crate and wake up about 7:30 ready to go outside and do their business, get their breakfast, etc. The puppies do sleep with a few of their litter mates, so when they go to their new home, you will want to be sure to put a nice dog stuffy (no button eyes, etc) or a Snuggle Pup like one of these, in their crate with them.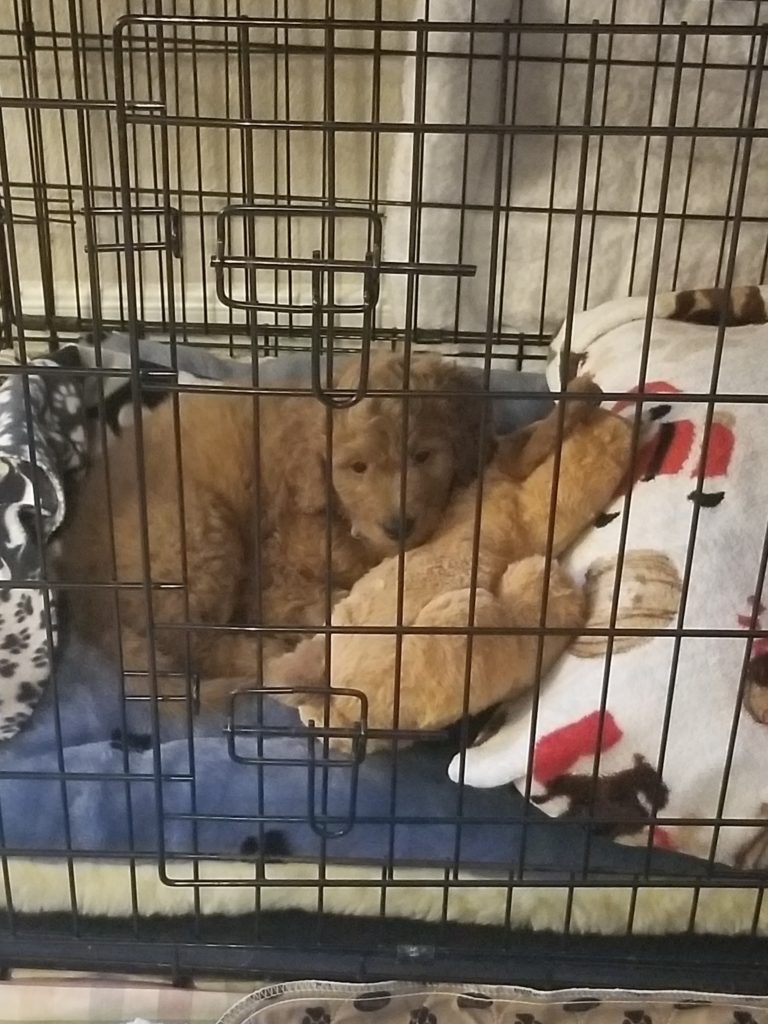 Daytime Enclosure or Pet Yard:
During the day, we like to rotate the pups between our outdoor playyard and an indoor playyard. At this age, they are not ready to be allowed to free roam around your home or yard. They should be supervised at all time when they are not in their crate or enclosure. This is especially true if you have small children. Never leave the puppy and children alone.
You can let your puppy play in your yard while you are watching them, but puppy-proof it first to ensure there are no toxic plants or items they can chew or eat that would be dangerous. For instance, azaleas, hydrangeas, lilies and sago palm nuts are very toxic for dogs, to name a few. Household dangers include wires and plugs, foods like chocolate, onions, raisins, etc. and socks that cause blockages. The bottom line is these are puppies who need contant supervision till they are about a year old.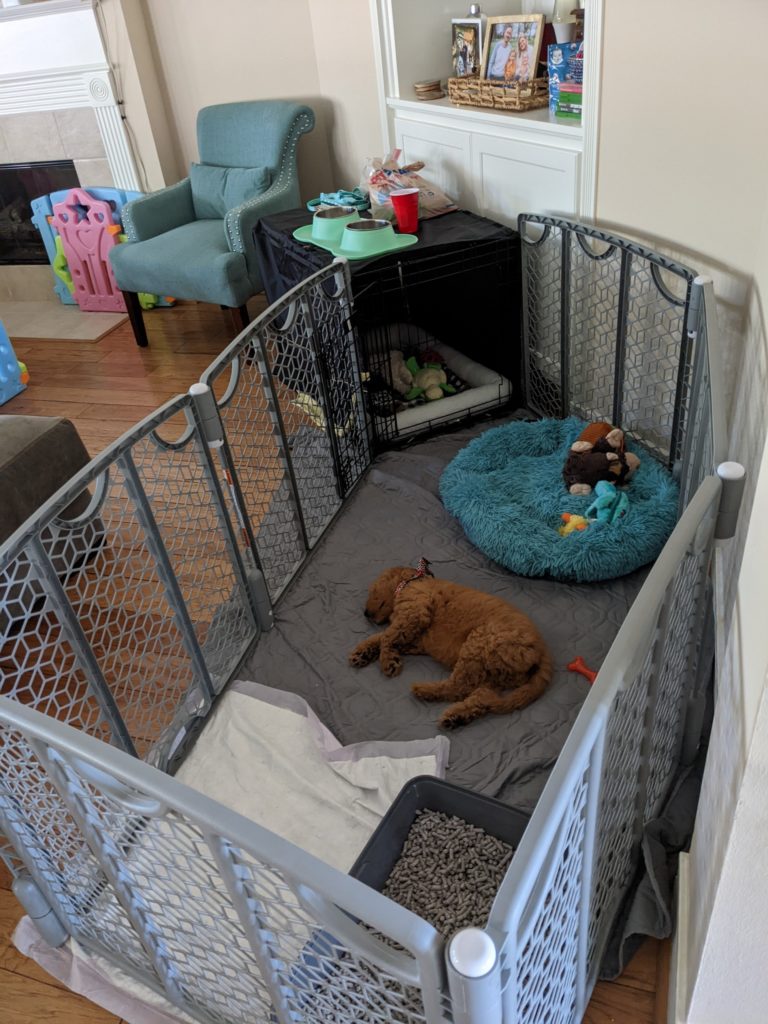 Contact Us Today To Reserve Your Puppy!
Contact us today for pricing and more pictures! If you see one of our goldendoodle pups you like, you can put down the $350 deposit to reserve that puppy. Reach out ot us via phone at 832-971-4649 or email at laurie@rainfieldgoldendoodles.com. You can also visit us at our Facebook page to see pictures of our previous goldendoodles and read the reviews of happy doodle families. We look forward to chatting with you and helping connect you with your new furry friend. Visit here for more information on our how to buy a goldendoodle puppy.