Goldendoodles For Sale in Houston
If you're looking to add a puppy to your family, we've got some goldendoodles for sale in Houston.
This fall we have standard-sized goldendoodle puppies, both F1 and F1bs. So if you've been on the fence about whether to add one of these wonderful, smart, funny dogs to your family, now is your chance. And if you already have one doodle, many of our doodle families have gone on to add a second or even third doodle and have done great! Doodles are very social dogs who love both human and canine companionship.
Available Goldendoodle Puppies
F1 Apricot and Red Goldendoodle Puppies
We have apricot and red goldendoodle puppies available from our F1 litter born in late November. These apricot and red goldendoodle puppies will have shaggy and wavy coats. The parents range in size from 60-80 pounds, so their puppies will likely be somewhere in that range with males generally being on the larger size and the females about 10-15 pounds lighter.
Get more information and pictures on our available apricot and red goldendoodles here.
F1b Goldendoodles Available in Apricot and Parti Colors
We also have F1b Goldendoodles available in Apricot and Parti-colors. These puppies have more poodle in the mix as they have a goldendoodle parent and a poodle parent, so their coats are curlier.
F1b goldendoodles shed less and are a better option if you are looking for a lower shed, more hypo-allergenic dog. Their coloring ranges from apricots, dark apricots, and black and white parti coloring. These puppies are also standard sized doodles and will likely range from 45-65 pounds. Males will generally be larger and females on the lighter end.
Find out more about our F1b Goldendoodles available now.
How to Reserve a Puppy
To reserve one of these goldendoodles for sale in Houston, please contact us either by email at laurie@rainfieldgoldendoodles.com or call or text at 281-235-3272. You can also reach out to us through our Facebook messenger at our Rainfield Goldendoodles Facebook page.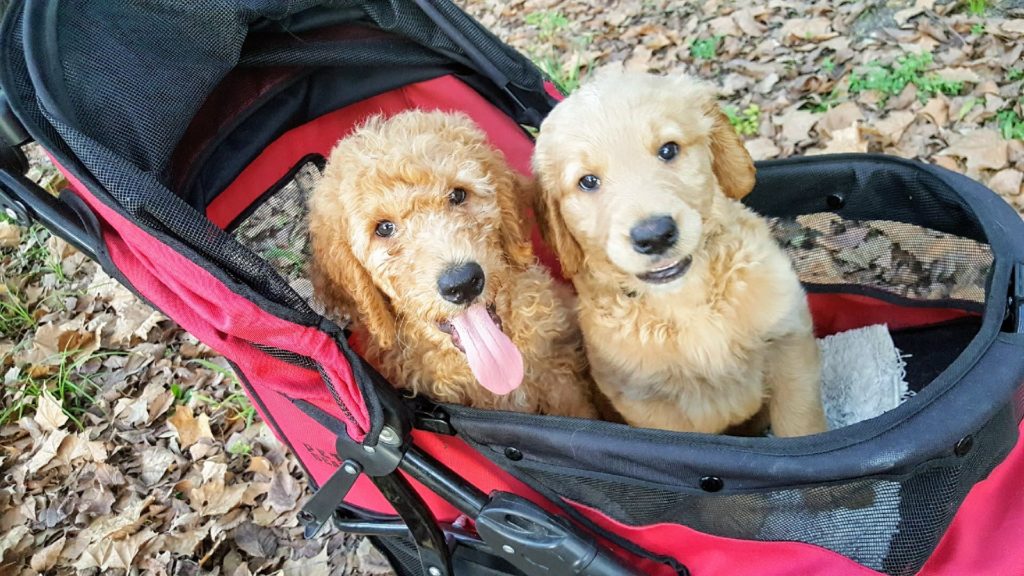 We are always happy to answer questions and give you more information about what to expect when getting one of our precious doodles. We look forward to hearing from you and to helping you choose your future puppy.
Pricing and Deposit
The pricing on one of our beautiful standard F1 or F1b goldendoodles available is $1850. To reserve a puppy, you would first put down a $250 deposit that gets applied to the final price. The balance is due when you pick up your puppy. Again, all our puppies come with a 1 year health guarantee.
Adopting two goldendoodles at the same time?
We ocassionally get families who want to adopt two goldendoodles, or maybe have a family member or friend who also wants to get one from the same litter. In those cases, let us know as we do offer a discount if you get more than one doodle from the same litter. If you are getting two for yourself, however, we suggest you research it ahead of time and see what is involved in avoiding littermate syndrome. It has been done successfully, but there are a few things you need to plan ahead for and do differently to encourage proper bonding between you and your dogs, etc. Here is a good article on avoiding littermate syndrome.
What to expect when you pick up your doodle?
Our goldendoodles for sale in Houston are home-raised and get lots of love and snuggles and early socialization with children, teenagers, older dogs, cats and more. We spend a lot of time with each puppy and handle them daily. Puppies are eating dry dog kibble by the time they go to their new homes.
We get your puppy started with basic manners training, crate training and potty training. They are young, so we can't say they will come fully trained, but we work with them while they're with us to give them a good start. We then give you tips on how to continue the training once they go to their new homes.
All our puppies come with their first set of shots, their health record and a 1 year health guarantee. They've had their parasite treatment every two weeks as a precaution. They have also had their first vet check up and wellness visit.
Get On Our List for Upcoming Litters
If you're not quite ready to get one of these goldendoodles for sale in Houston right now, or if you want to get an early pick on a future litter, contact us now to get more information on our upcoming litters. We expect to have a little of mini goldendoodle puppies in late spring/early summer 2022 and a litter of standard goldendoodle puppies in summer 2022.