Mini-Goldendoodle Puppies for Sale – August, 2022
We've got three gorgeous little mini-goldendoodle puppies for sale – our late summer minis. They are 8 weeks old and ready to go to their new homes. These F1bb curly pups are all going to be about 30-35 pounds full grown. They've all had their first shots, are eating well on their own and are doing really good on their crate and potty training.. All three pups are on a good schedule, mostly sleeping through the night and more. If you're interested in taking one of these cuties home, contact us today.
The Adoption Process
If you are interested in adopting one of these darling mini-goldendoodle puppies, you can email me at laurie@rainfieldgoldendoodles.com or by phone at 281-235-3272. You can also reach out through our Facebook page by clicking here.
The price for one of our mini-goldendoodle puppies is $2250.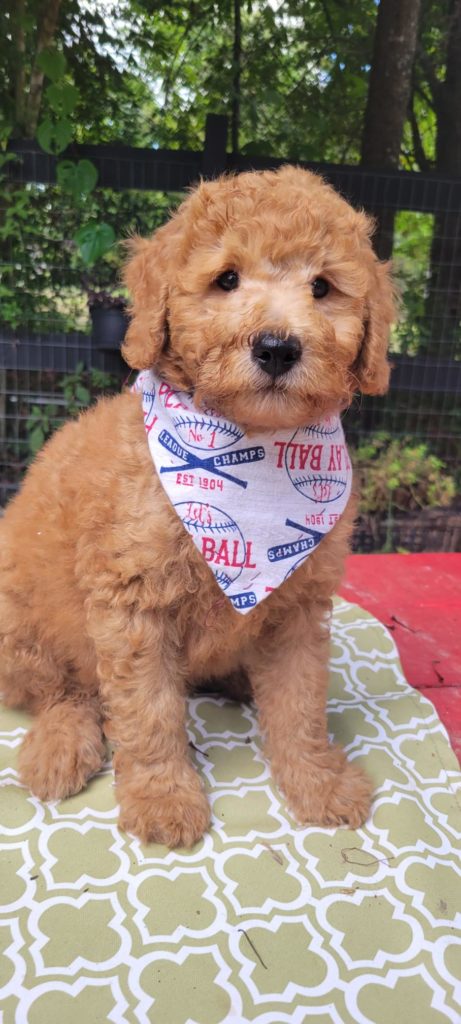 Training & Personalities
A little bit more about these mini-goldendoodle puppies for sale. These little doodles are fairly easy going and laid back. They love playing and their training time, but they also love snuggles and are great huggers. They are all doing well with their potty training. and sleep in their crates at night. I am starting them on some early commands like "Place" on a dog cot. They are very smart and attentive and catch on to new things fairly quickly.
Contact Information:
To contact us about adopting one of these darling mini-goldendoodle pups, submit our contact form here, or call or text me at 281-235-3272.