Red Goldendoodle Puppies for Sale in Houston
Cuteness alert! Our late summer litter of apricot and red goldendoodle puppies for sale are here and getting cuter by the day! This litter of small standard F1b puppies was born in early June, 2022 and will be ready to go to their new homes in early August, 2022. We have a mix of boys and girls at the time of this posting. More information and pictures below.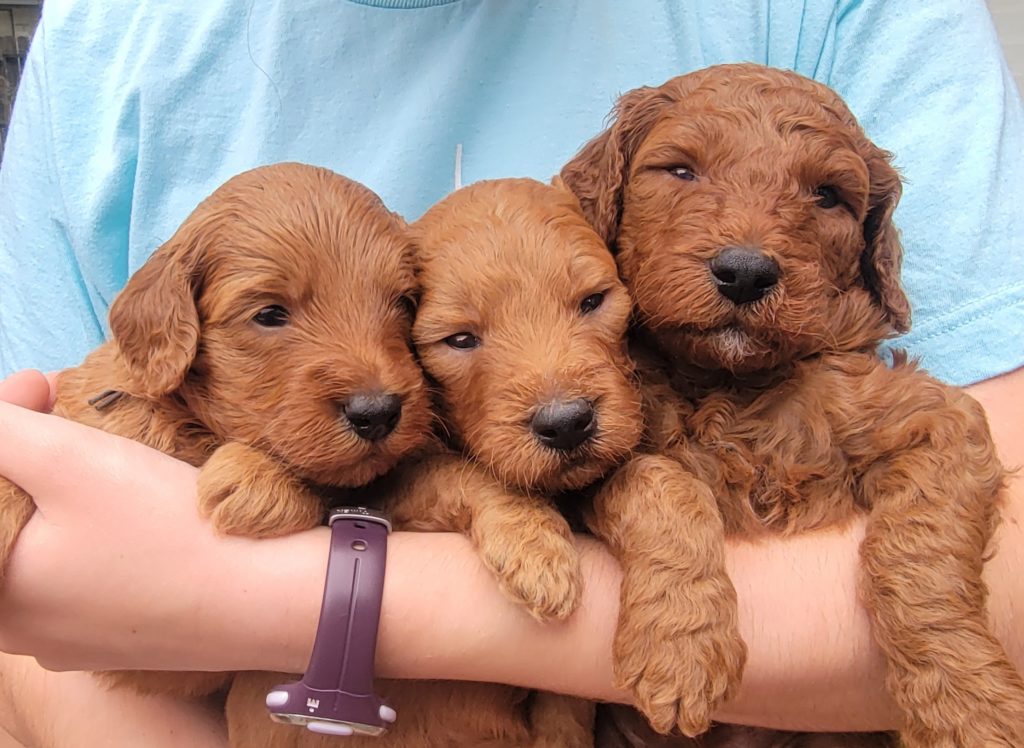 To reserve of these red goldendoodle puppies for sale, please text Nadia at 832-971-4649 or email laurie@rainfieldgoldendoodles.com. You can also visit and chat with us at our Rainfield Facebook page where we have pictures of our older doodles.
What Color and Coat Types Will These Goldendoodle Puppies Have?
Our red goldendoodle puppies are F1b puppies. Their mom is a red shaggy wavy F1 Goldendoodle and daddy is a curly small standard AKC poodle. All puppies have beautiful thick coats, some are wavy/curly and some are very curly. We have some males and females available for sale at this posting.
How Big Will These Red Doodle Pups Get?
These F1b puppies are small standard goldendoodle puppies. We estimate that they will range in size from 30 pounds to 40, possible 45 for some of the bigger boys. Mom is a 50 pound F1 Standard goldendoodle and dad is a 25 pound small standard AKC poodle, so pups will be in that range.
When is Pick Day and Go Home Day?
These puppies are born in early June and will be ready to go their new homes the first week of August.
Pick Day: For families with deposits who want to meet the pups and make their pick in person, pick day will be in mid July.
Go Home Day: The puppies will be 8 weeks old and ready to go their new homes in early August. Go Home day will be the first week of August, 2022.
Pricing for these Red Goldendoodle Puppies for Sale?
It's a $250 deposit to reserve one of these gorgeous F1b red goldendoodle puppies for sale. Once we get your deposit, we will confirm what pick you have. The deposit gets applied to the total price of $2250. The balance is due at pickup.
Puppies come with a 1 year Health Guarantee.
What Training Will These Doodle Pups Have?
Your new doodle puppy has been sleeping in a crate at night with a few of their siblings. They may take a night or two to settle into their new homes, but they should settle in pretty quickly. We have also started their potty training. We will send you a letter with their schedule that includes what training we have been doing with these cuties so you can continue the training. Most of our puppies are well on their way to being potty trained when they go to their new homes — if you follow our instructions.
Do These Puppies Have Their Shots and Health Records?
Yes! You new puppy has been to the vet before you pick them up and gotten a wellness exam. We give you a health record at the time of pickup that includes the information on their worming treatments and when they got their first shot.
When the puppies go home, they have had their first shots. Puppies need a total of 3 shots before they are protected from Parvo and other canine illnesses. Shots are given about 3 weeks apart. In the meantime, please do not expose your puppy to other dogs or areas/grass where other dogs may have defecated. Parvo can live in the soil for years, so be extra careful until you new puppy has had all 3 of their puppy shots. If you take your puppy to places like the pet store, please carry them or keep them in the shopping cart so they don't touch the ground.
We do require that you schedule your new puppy for their first vet visit within 3 days of them going to new homes to validate our contract and health guarantee. Please bring your puppy's health record with you to the vet, or take a picture of the record.
Mini-Goldendoodle Puppies
If you are looking for a smaller dog, we also have a litter of mini-goldendoodle puppies who will be in the 25-35 pound range. For more information on our Mini-Goldendoodle litter, click here to see pictures and more details about this litter.