Standard goldendoodle puppies
Our winter litters of standard goldendoodle puppies are here. We have two litters, so we have a wonderful mix of colors and coat types. We have a good mix of males and females (at the time of this writing). T
When are these pups ready to go home?
Pups from these litters are ready to go home in early January.  Families will be able to pick out their puppies before Christmas. That way you know which puppy you will be taking home, but won't have to worry about finding pet sitting or taking the new puppy along with you as you go visiting for Christmas and New Years.
What Pick Will You Have?
Your pick number is determined when we get your deposit. We ask that you let us know your preference for male or female and which litter you are interested in when you make your deposit. Once we get your deposit, we will confirm what spot your have on our list.
Goldendoodle Mix, Colors and Coat types
We have a litter of standard F1b goldendoodle puppies and a litter of standard F1 Goldendoodle pups.
The F1b puppies (pictured to the left) have a poodle parent and a goldendoodle parent, so are more poodle-like in appearance and temperment. This litter has a fun mix of reds, apricots, partis, and black. These pups are expected to be pretty curly/fluffy as they are 3/4 poodle. If you want a dog that sheds less and is more hypoallergenic, an F1b is a good bet.
The F1 goldendoodle puppies (pictured on the right) have more of that typical goldendoodle look with their shaggy wavy coats. These F1 goldendoodle puppies are apricots, reds and a few blondes. This goldendoodle mix has one golden retriever parent and a poodle parent, so they have a pretty good mix between poodle traits and golden retriever traits. They are generally low-shed, but may shed a little more than the F1bs.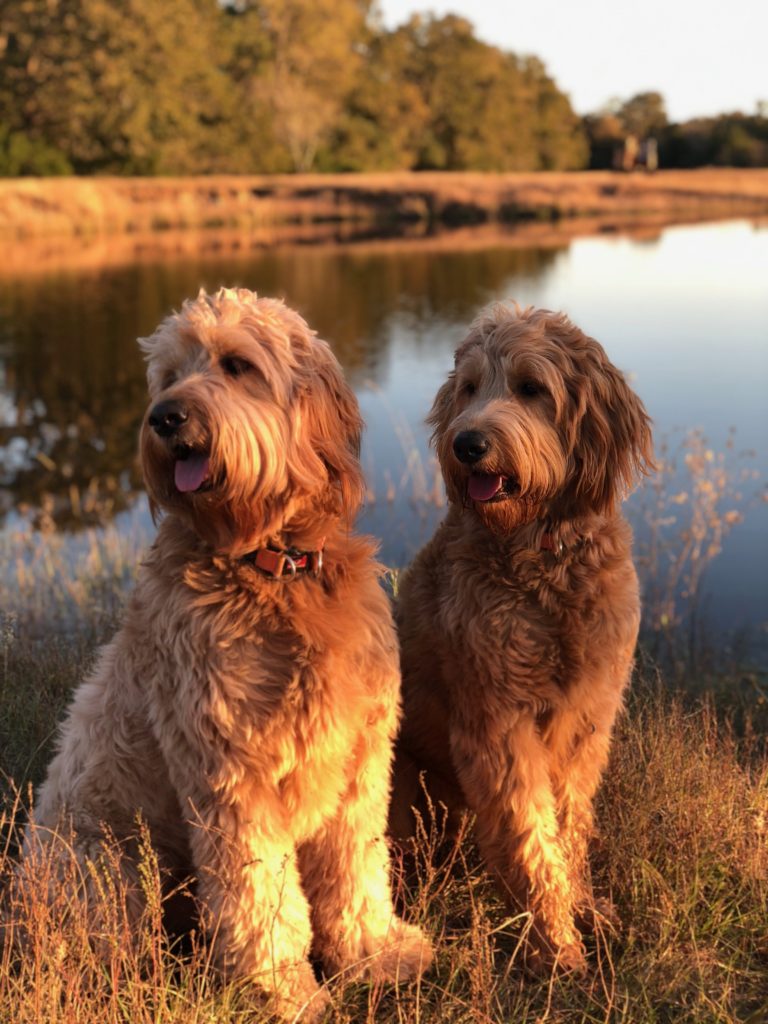 Their Full Grown Size:
These puppies will be standard sized. The parents are between 45 to 80 pounds, so puppies will be in that range with males typically being on the larger side and females on the smaller.
Contact Us

For information on how to adopt one of our standard goldendoodle puppies, including pricing, please visit our 10 Steps to buying a Puppy. If you would like to see pictures of our older goldendoodles and all the fun they're having with their families, check out our Facebook page by clicking here.
To get in touch, message us through our Facebook page, email laurie@rainfieldgoldendoodles.com, or text 281-235-3272. — Happy Holidays!