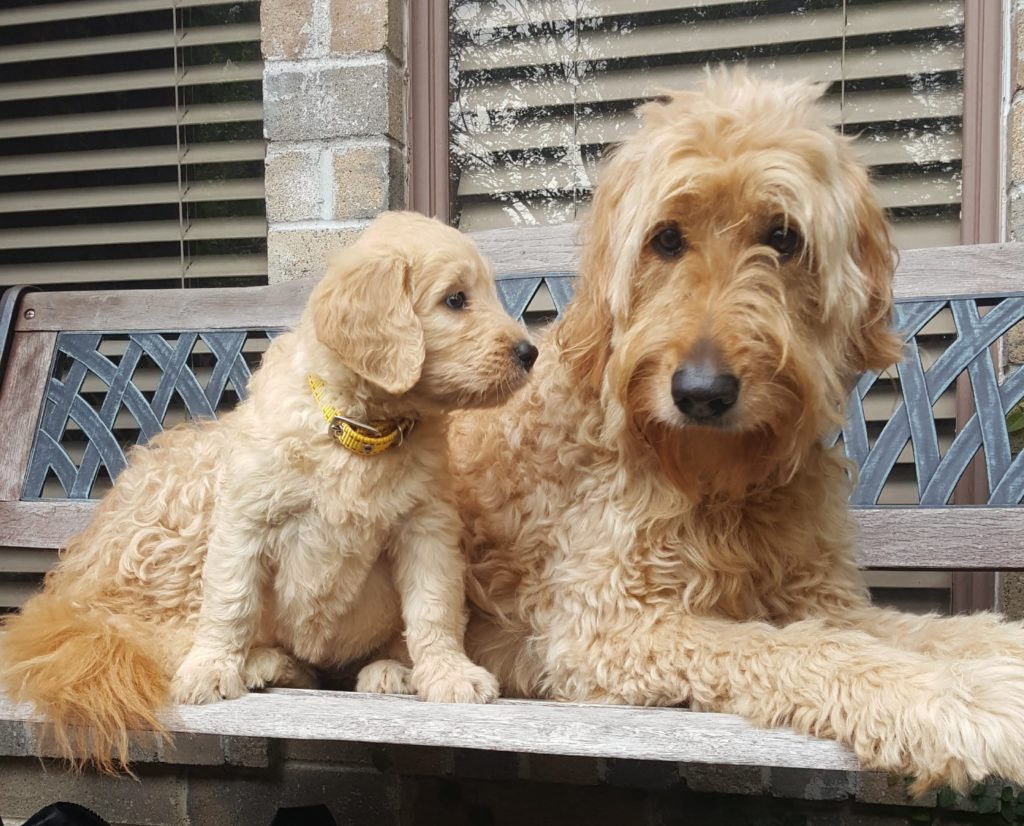 Goldendoodle for sale Houston
Welcome to Rainfield Golden Doodles! If you are searching for Goldendoodle puppies for sale in Houston you've come to the right place. My name is Laurie and I started off breeding AKC dogs over 20 years ago. I have been a Goldendoodle breeder in Houston for over 13 years now. 
Why Buy a Goldendoodle?
Over the years I have found that people who add a Goldendoodle to their families have almost always done a great deal of research.  The qualities I find people look for most and are looking for in a Goldendoodle is a dog that is great with kids and is good with people who have allergies. It seems that most families have at least one member that suffers from allergies.  Also, I hear from many people who have had Golden Retrievers in the past and are in love with the breed, but who have trouble with all the shedding. Their research led them to look for a Goldendoodle.
Another common Goldendoodle trait I find that people love is their sporty side. Poodles (which is a part of the Goldendoodle hybrid mix) were and still are used by some hunters as retrievers. Actually, the Continental haircut you see in the show ring, had a very useful purpose originally. The long hair around the shoulders and back, warmed the heart and the pom poms around the ankles and on the hips protected the joints.  Poodles rate second in intelligence in the canine world. Wolves have the intelligence level of a 9-10 year old child and poodles have the intelligence of a 5-8  year old child. Poodles are not only intelligent but loyal, intuitive, very friendly, gentle, clean and low-shedding, fun loving, great with kids and people of all ages. They are very easy to train and love and need challenges.
Golden Retrievers (the other part of the Goldendoodle hybrid mix) are just great all around family dogs in every sense of the word, as well as athletic and sporty, eager to learn and  eager to please.  They have a great sense of humor and keep me laughing. They are very easy to train and love water sports. For people who love to run, they are great as a companion runner.  The possibilities are limitless. Recently, a Goldendoodle was on ABC news for running in a Marathon in NY to raise funds for cancer. He raised more money for research than the other runners.
The Goldendoodle hybrid mix not only combines many of the amazing traits of both the Poodle and the Golden Retriever. They also have  low shed qualities that make them great pets for people who suffer from mild allergies. Being a hybrid, they have that "hybrid vigor" which can make them generally healthy dogs. Their intelligent, loving personality makes them great family pets, companion animals and service dogs. It's no wonder that Goldendoodles have captured the hearts of so many Americans. 
Rainfield Golden Doodles and Our Goldendoodle Puppies
Rainfield Golden Doodles is a labor of love on both mine and my family's part to promote and further the well-being of the Goldendoodle hybrid. To that end our Goldendoodle puppies for sale are bred for health, temperament, companionship and intelligence with some even becoming therapy dogs and service dogs. Our puppies are raised in our homes and are socialized from birth. We strive to find loving homes for our puppies where their unique Goldendoodle traits and qualities can lead to even happier homes. Rainfield Golden Doodles offers a variety of types of Goldendoodles such as standard F1 apricot and red Goldendoodle puppies, mini Goldendoodle puppies,  F1b Goldendoodle puppies, curly coat low-shed (more hypo-allergenic) Goldendoodle puppies. Whether you are in Austin, Dallas, San Antonio, Corpus Christi, Houston or anywhere in Texas, contact us to add a goldendoodle puppy to your family today.
UPDATE: This gorgeous goldendoodle has been adopted and is no longer available, however, if you are looking for an older goldendoodle, we do occasionally assist with rehoming of adult goldendoodles. Please get in touch with us and we will add you to our list and let...
read more